After the success of the Pamu Scroll and Pamu X13 headphones, Pamu has introduced new headphones – Wireless Padmate Tempo T5.
Padmate – a promising Chinese headset company
Founded in China by a group of engineers who have 10 years of experience made audio products for large companies today such as XiaoMi, Intel, Huawei, Monster. Because of these advantages, Padmate can be confident that its products can rival those of big guys from Samsung, Apple or Bose.
Padmate's wireless headset products not only offer unique, quality designs, but are also equipped with advanced audio technologies that make the user's listening experience better and better.
The exterior cover design features two contrasting black and white tones From the outside, users can be impressed with the appearance of both modern and a little classic, thanks to two colors of black and white tones. On the front of the device is a blue LED strip with the ability to display the remaining battery level. The light will light up every time you put the headset in the box. Padmate Tempo T5's housing is made of white ABS synthetic resin, with a hint of metal imitation plastic around the edges along with a rather lumpy embossed pattern to create accents.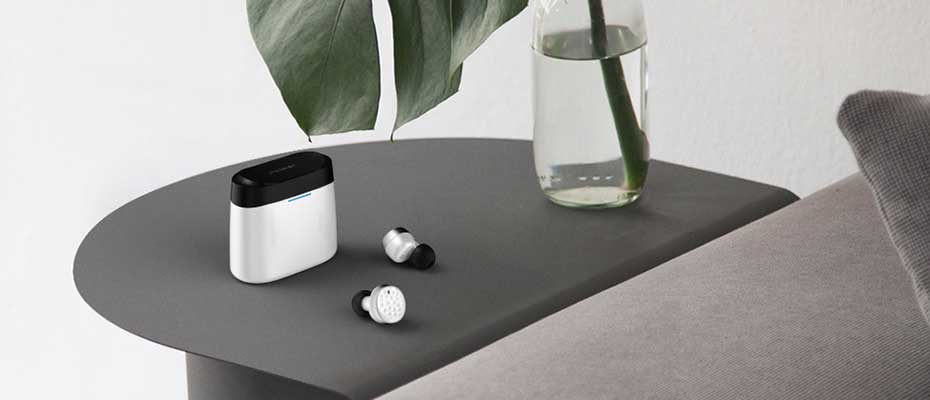 On that lumpy surface is also a built-in microphone that helps users answer calls. Although the headset does not come with earhook, the feeling of wearing the device on the ear is still very firm, not easy to fall.
New bluetooth 5.0 connectivity standard with durable IPX6 water resistance
With bluetooth 5.0 connectivity standard, the device can maintain line stability, anti-roll, especially when users play games or watch videos. The signal transmitted on the device is also very good, although with the smartphone, tablet, laptop using the old connection standard, the headset still works very well, but it will not be maximized from the power This new 5.0 connectivity standard.
In addition, Padmate Tempo T5 headphones also become a sports headphone with water resistance up to IPX6, allowing users to use it in the rain but the headset still works well and stable. Surely this will make dynamic sports enthusiasts feel excited about this headset.
The ability to connect to the phone and battery life is impressive up to 4.5 hours
Padmate learns to connect to the phone on Airpods and brings up its Tempo T5 headset. For the first time the connection will take a long time. However Padmate Tempo T5 has the ability to memorize so that the headset will automatically connect to your device.
For gesture manipulations on the Tempo T5 headset, to stop / play music, receive calls, you just need to touch once on any side of the headset, double tapping is to cancel the call. However, the two touches on each left and right are slightly different. For the left is to call the virtual assistant (Siri or Google Assistant), the other side will be to transfer the song.
Battery life on the Tempo T5 is also rated very well when charging time is only about 3.5 hours and allows continuous talk up to 4.5 hours, more than that equipped with a 1000mAh battery will give time waiting time up to 5-6 days if you listen a little each day.
Impressive sound quality although only equipped with 6mm diameter driver
Although equipped with a modest driver of only 6 mm, this headset is one of the True Wireless headphones with good sound quality at its price. Specifically, in the bass range, the bass on this headset is quite powerful, but still round and neat, focusing on the mid-bass range.
For some soothing, vocal-oriented music, the headphones also perform quite well when the vocalist's vocals are made better thanks to the mid band being made fuller and thicker so the male voice tends to be better than the female voice. The treble range is also expressed as average-quite. With the above-mentioned parts, Padmate Tempo T5 headphones are suitable for some genres like R&B and Pop, or Rap / Hiphop.
As an emerging headset that has yet to be well-known in the market, finding a genuine, quality and genuine place to buy wireless headphones Padmate Tempo T5 is quite a difficult thing. But with Moldac, the system specializes in providing genuine, quality audio technology accessories with an extremely affordable price and a long-term warranty, which will definitely make you more assured.