MongDa may not tell you much even though the brand has been on the market for some time now as a startup of Harda Group, which also includes Padmate, the company that created the PaMu Scroll true wireless headphones. In this case MongDa has decided to put on Indiegogo a decidedly interesting project concerning a wireless battery charger different from those currently on the market given the presence inside it of a fan capable of always keeping smartphones cool during charging.
MongDa: this is how the charger works
The phenomenon of wireless charging has now affected all smartphone manufacturers who for some time have only added this functionality to their devices. Here, users are looking more and more for loaders that allow maximum upload speed without affecting the phone that we know during charging without cables (but also with the cable) tends to overheat.
Precisely in this sense, MongDa, wanted to find a solution to the problem of temperature, noise but also of charging speed and safety. Such as? Inventing a Qi charger with the presence of a control fan capable of dissipating heat. MongDa developers have found that the charging efficiency of wireless products on the market is generally low. The heat caused by an inefficient charge leads to even worse efficiency, which can cause terrible damage to the phones.
For this reason it was decided to address research in the development of new technologies and the use of different materials that allow greater efficiency in charging and protection for the phone.
Here that adopting an automatic cooling system, MongDa can afford to keep the phone temperature below 29 ° C. This means that the battery is kept at low temperatures during charging, protecting it and prolonging the life of the phone.
The CNC aluminum alloy material absorbs the heat but above all the cooling fan quickly wipes out any surplus of temperature, always remaining constantly at about 5 ° C and cooling the body of the smartphone.
Not only temperature but also charging speed. Yes, because with MongDa it is also possible to have the smartphone recharge type detected, offering up to 7.5 W for Apple devices and 10 W for Samsung or others. IPhones are loaded at 50% in 38 minutes and completely in about 2 and a half hours. And it is not all that the recharging device intelligently identifies natural and artificial light sources to adjust the rotation speed of the cooling fan when the brightness changes. This automatically reduces the noise caused by the fan during night charging.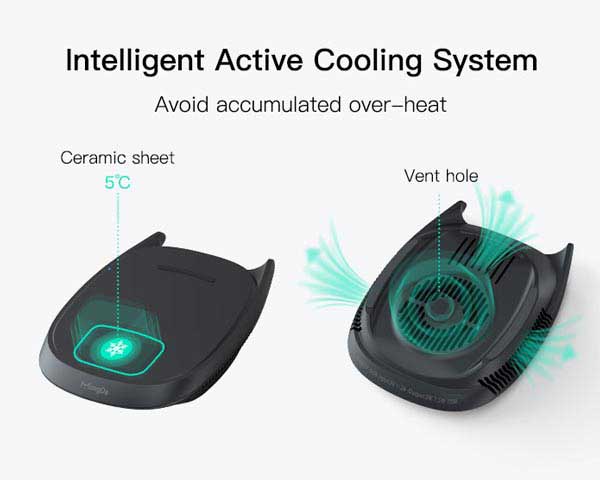 MongDa: price and availability
The new MongDa wireless charger is available for purchase on the Indiegogo platform for the € 26 launch price including free worldwide shipping.