Whether you have naturally short, long, or gel nails, it's important to maintain your nail shape with a file that's right for you. Do you have the manicure and pedicure set? Do you know how to choose your nail file? Next, follow this article to learn about it.
For your natural nails:
If you have naturally long or short nails, it is important to choose your file correctly and especially the grains of your file! The fine grain 180/240 nail files are very well suited for this type of filing. They can file the contours of your nails without weakening them. There are two types, disposable files and glass files.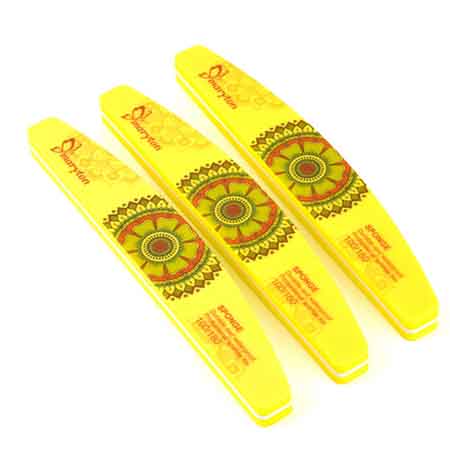 * 100/180 disposable files: they are very light files, they exist in straight or banana shape. They are suitable for occasional use, the grains weaken over time with use. 
Straight files are used to shorten the length of your nails as well as their shaping. The "banana" shaped files are more used to roughen your natural nails before an application of varnish. It is easier to handle to get to "corners" without touching the cuticles.
* Reusable glass files:
Ideal for perfect maintenance of your natural nails, it is reusable and prevents splitting of your nails. More ecological, their grains do not wear out. They are washable and sterilize. On the other hand, they are heavier than single-use files. They are better suited for occasional use.
Once your natural nails have been filed, some like to apply nail polish to beautify the hand! For a more lasting varnish application, I advise you to prepare the plate of your nails by passing the white polishing block. This will allow your nail polish to hang better and necessarily more durable.
You may also want to make your nails shiny without the use of polish. This is entirely possible by using a file or a 4-sided block. Just run over each nail and in order for each side.
File the length of your nails in Gel or permanent varnish:
Rough files should be favored to shorten your gel nails, or even to remove the gel on your nails. For this I recommend straight files with 80/100 grains. The thick grains make it easy to shorten your length, since the gel layer is still much thicker than a natural nail. I have tested "straight" files but find them too thin, grip is less easy and they bend with use.
You can also, make your gel deposits with 80/100 grains, but I recommend the more practical banana limes to make the back and forth on the edge of the skins … You will just need a little "elbow grease".
If you want to know more about nail files, just click here!
Read also:How to choose the nail cutter?