The warm season has arrived, and with it nature explodes in a riot of wonderful and brilliant colors! Faced with grit and a lot of romance, treating yourself to nails with manicure set in full floral style! There is something for everyone, you just need to find the right nail art for your personality and style.
So let's see which floral nail art suits every type of woman.
Romantic and dreamer
Romantic and dreamy women are often portrayed in the common ideal as delicate and often fragile women. This is not the case at all: in fact, to believe in your dream of love or career, you need great strength of mind and self-confidence. Women who are still able to dream are therefore centered in their true selves. And they can therefore afford to be themselves, women and free to live their desires and ambitions.
In fact, gel polish is truly suitable for the most romantic and dreamy women, for the delicacy and the all-natural effect that distinguishes this nail art. The perfect colors? Antique pink, but also nude, or cyclamen. To greet the arrival of summer, like delicate buds.
And for a reconstruction that is always romantic and in full flower power style? The buds can be painted directly on the nails! Just choose a delicate and elegant gel, in soft shades such as white or pink, and then proceed with a micro-painting brush, with the freehand drawing. Of course, the entire job must be done by real professionals.
Passionate and energetic
Self-confident, the passionate woman is not afraid of getting what she wants. It is a very active woman in society, at work and in private life. Because it is the fire of her passions that keeps her moving forward, never looking back to look at her mistakes, or to linger in regrets.
The sempermanent nail polish brings the color of desire and energy: red. Scarlet or coral, perfect for all occasions, red has a thousand and more shades, and if it suits the spring season, in dark and particular shades such as rouge noir or burgundy, it is also perfect for winter. The flower power nail art that goes perfectly with red? Square nails, medium long, but always impeccable and very shiny.
Cheerful and sunny
The cheerful and sunny girls bring joy wherever they are: in the family as in the workplace, a person who is always smiling is certainly precious, able to raise the mood of everything, like a real medicine, a contagious disease of the smile .
Cheerful women aren't always happy, but they are undoubtedly optimistic, the kind of person who has always looked at the glass as half full. Better to opt for short nails with a rounded shape, for a natural effect, but hypervitamin thanks to the positive vibrations of the colors.
And if a sunny woman wanted to choose a flower decoration for her reconstruction, what could it possibly be? Easy: the sunflower! Stylized or more elegantly designed, sunflowers immediately recall sunny fields shining with light, anticipating the season that follows spring: summer.
Mysterious and dark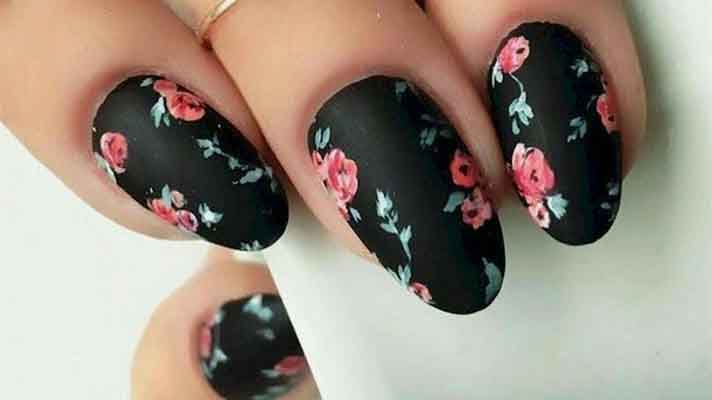 It is not a mystery: the mystery itself is a woman. And there are many girls, of all ages, who choose to appear reserved and shy, with an allure of mystery that also makes them a little dark.
And to fill dark women's nails with flowers? Which species in the floral kingdom is more mysterious and fascinating than the splendid orchid? Combine your mystery manicure with smoky and intense perfumes, to leave a trace of your passage in every place.
Read also:Tips for taking care of your nails