Throughout the Bluetooth headset market, true wireless Bluetooth headsets are undoubtedly consumers' favorite. Thanks to the lack of cables, true wireless headphones have great advantages in application scenarios. Coupled with technological breakthroughs, true wireless headset has made great progress in the past two years. Whether its' sound quality or wearing comfort, it has become the new favorite of the Bluetooth headset market, and consumers are willing to pay for it.
Recently, we got another true wireless Bluetooth headset. Compared with similar headsets on the market, it uses Bluetooth 5.0 technology and supports single ear use. It seems that there is no difference. But actual we got an unexpected surprise. The sound is very clear when I wear it. It has the same characteristics as other true wireless Bluetooth headsets. However, what is different? Let's get to see!
This headset is the pamu slide mini bluetooth 5.0 true wireless earphone. It created the world's largest crowdfunding platform Indiegogo with the highest amount of crowdfunding in the world, the largest number of supporters in Indiegogo's crowdfunding history, and the highest amount of Indiegogo crowdfunding projects in 2019 (so far). We can see that people likes this headset! The first time I got the headset, I saw the real shot of the product from its white outer box, and was instantly attracted by it! It is more exciting for me to look forward to PaMu Slide Mini.
The two earphones are magnetically attracted to the charging compartment, and most of the ears are exposed, so the PaMu Slide Mini true wireless earphones are easy to pick up. However, when you first use the headset, it is easy to misplace it. This is because the right-channel headset is on the left and the left-channel headset is on the right. This takes some time to adjust.
Back to the main body of the headset, looking at the true wireless Bluetooth headset market, each manufacturer has its own set of product shapes. PaMu Slide Mini is a new headset from Padmate, incorporating a new design. The overall shape is similar to the combination of in-ear headphones and plugs. The headphones are 37.5 mm long, 19.5 mm wide and 26 mm thick. In this "big" space, you can put larger components such as batteries, noise-cancelling microphones, and antennas. Although the weight of the headset is a little heavier than similar products, a single headset weighs about 7.1g, and the weight is good. Wear it in There was no pressure on the ears.
Like most true wireless headphones, the PaMu Slide Mini true wireless headphones turn on automatically when they are removed from the charging case! There is no need to use physical buttons to turn on the device. After the pairing is completed for the first time, every time you remove the headset, it will automatically connect. If you want to listen to a song, you can remove the headset. When you put it in the charging box, it will automatically shut down and disconnect. In addition, PaMu Slide Mini can also be used unilaterally, both headsets support independent calls, regardless of master and slave, any one can be used, which is what a true wireless headset should look like.
In order to ensure the stability of the connection, the PaMu Slide Mini true wireless headset plus Bluetooth 5.0 technology, supports aptX and AAC decoding, and is compatible with SBC. In addition, the headset also integrates LDS wireless technology, which has better performance than traditional core antennas and more stable signals, making the connection stability of the headset more reliable, and avoiding disconnection and freeze of music and calls.
In terms of headphone audio units, PaMu Slide Mini use a 6mm dynamic coil diaphragm unit. The official also gives an audio comparison chart with AirPods2. It can be seen that PaMu Slide Mini is better in terms of tri-band equalization. some. How does it actually sound? Xiaoxin also listened to the headset for a while. On the bass, the volume is very obvious. It can bring me a good sense of immersion. Without the feeling of being a head boomer, it is very shocking. It can dive and rebound. It 's not bad, I also feel the sense of listening to the electronic music; at the intermediate frequency, the sense of hierarchy is pretty good. After listening for a long time, both male and female voices are more moderate and close, which can bring users a good music atmosphere; high-frequency analysis Hearable, clear and bright. In general, the sound quality of PaMu Slide Mini is indeed better than many real wireless headphones on the market. It can fully meet my daily listening needs such as music and drama.
In terms of interaction, PaMu Slide Mini is integrated into the touch control area in the upper part of the headset handle, that is, it supports touch operation. This is also Xiaoxin's favorite interaction method. The headset supports three touch operations: click, double-click, and long press. For example, it can realize music pause / play, outgoing voice assistant (such as outgoing Xiaoai classmates), answer / reject calls, etc. It is worth mentioning that: PaMu Slide Mini can increase or decrease the volume on the headset. Press and hold the left ear to decrease the volume, and press and hold the right ear to increase the volume. The sensitivity during operation is moderate. You will like it slowly after you are familiar with the operation Touch of PaMu Slide Mini, praise.
Nowadays, many true wireless earphones gradually begin to add noise reduction. In this regard, PaMu Slide Mini uses dual microphone intelligent noise reduction technology. There is also a secondary microphone on the top of the back of the headset. It plays the role of physical active phase inversion to eliminate noise reduction. In actual experience, it is indeed possible to hear the other party more clearly. The environmental noise is basically inaudible. It is still possible to make a call at a noisy train station on the way home during the return journey Communicate clearly with friends, no need to shout or talk!
In terms of battery life, the PaMu Slide Mini true wireless headset has a built-in 85mAh battery, coupled with the low power consumption of the QCC3020 chip, making this headset a single battery life of 10 hours. Paired with a charging case with a battery capacity of 400mAh, it can provide 2 charges, with a total battery life of nearly 30 hours.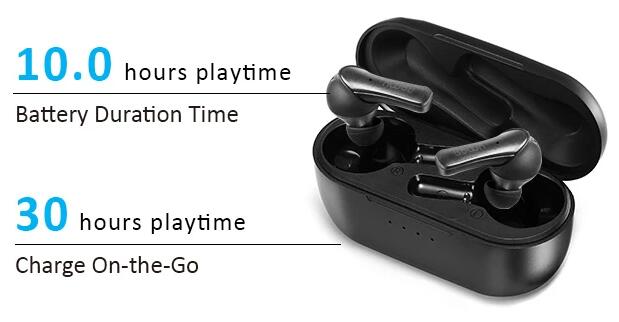 Daily waterproofing is not a very new feature. Basically, most true wireless headphones have it. This is also supported by PaMu Slide Mini. The earphone cavity shell adopts the ultrasonic welding process. IPX Class 6 waterproof technology can meet the needs of daily sports life, without having to worry about any cruel weather such as sweating or rain, but it cannot be immersed in water.
Summary
Headphones are the most commonly used digital products in our daily life. True wireless headphones have great advantages in application scenarios because they are not tied by cables. PaMu Slide Mini true wireless earphones need beauty, yes; they need to be comfortable to wear, yes; they need sound quality, and they also have outstanding battery life.