If you love to have nails that are always perfectly groomed but don't have the time or the budget to go to the beautician, you can like me use the electric nail drill. For a manicure and pedicure set with great ease and a clean effect and maintained in a very short time, no more rudimentary the old nail file! The electric nail drill can adjust speed at 2000-3000 RPM for exfoliating, grinding, polishing and nail removing.
A result worthy of a professional with a few small technical gestures:
1. First, you must remove the traces of the previous varnish on your nails with cotton wool and nail polish remover.
2. You can now file your nails to give them the desired shape, always in the same direction to avoid weakening them and splitting them.
3. Take care of the contour of the nail: you have to work on the cuticles. To soften them, soak your fingers in hot water. After that, push back your cuticles using the cuticle pusher.
4. Use the dust brush to thoroughly clean the nail before applying your new polish or moisturizer. The buffing head gives the nails a healthy and shiny look!
5. You can now proceed with the installation of your varnish, the ideal is above all the application of a transparent base which will protect them from yellowing and ensure better resistance to the varnish.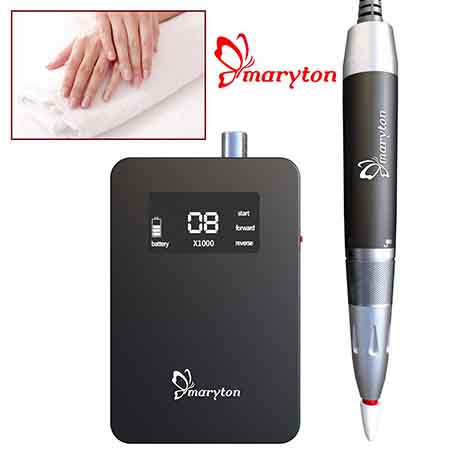 The technique for perfect feet is similar:
After good foot hygiene, you can easily remove calluses using the electric nail drill, which removes dead skin. A disc will allow you to clean very precisely under the toenails. Beautiful, flawless toenails are very attractive, especially with beautiful fashionable sandals !!!
In conclusion, this electric nail drill is very compact and very light, it does not take up space in your bag, you can do your nail artwork anytime anywhere. It works with portable moblie power bank, low noise, it sits well in the hand.
So give optimal care to your hands and feet. Meet the beauty and take care of yourself! If want to know more, just click here!
Read also:What is an Electric Nail Drill?